DIY skin care is hard to avoid. Assuming you are all as avid pinners as I am, you are constantly seeing crazy remedies from peoples pantries. But who's to say what really works and most importantly, whats really SAFE for your skin? Some things will work if you are truly in a pinch but nothing truly replaces a skin care regimen prescribed by your trusted esthetician.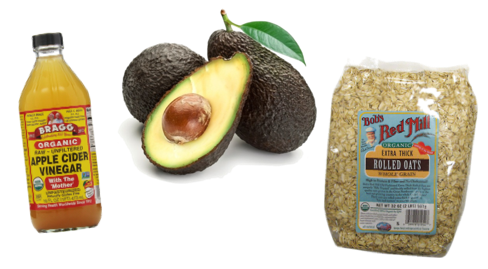 Apple Cider vinegar has antibacterial and anti-fungal properties which can help preventing acne. It is a good source of alpha hydroxy acids, it will help to remove built up dead skin cells by exfoliating. Apple cider vinegar is potent stuff, so be wary if you have sensitive skin. Apply it with a cotton pad, as you would a toner. Let it sit for a few minutes, then apply a soothing moisturizer. We like Yonka's Hydra 1 Cream, since they are a natural line made with essential oils.
Avocados are abundant here in San Diego, and I'm willing to bet you have a few sitting on your kitchen counter right now! So, cut it open and smear it on your face. Why? Avocados are a great source for omega-3 fatty acids and vitamins A, D and E. Using a mashed avocado as a quick DIY mask can provide your skin with a ton of moisture. Cold pressed avocado oil is another (less messy) way to get these same benefits. It can help sooth irritated skin in a pinch.
Oatmeal is great for not only your face, but your entire body! Oatmeal can help normalize your skins pH levels, pouring a cup into a warm bath can help sooth dry, itchy skin. For your face, you can whip together a little oatmeal, coconut oil and brown sugar for a DIY natural exfoliating scrub.